Special Entry for the Hot Spring Theme Park Yunnesun in Hakone
Reviews
Amazing experience
Emmers
Posted on:
2017/09/15
| Emmers
Only in Japan
Jasmine
Posted on:
2016/03/07
| Jasmine
Read more
Overview
Hakone/ Odawara
Available Daily
Pick-up not available
What to expect
Make your way to the amazing hot spring theme park. Enjoy a dazzling variety of pool-sized baths, a water slider bath for kids, and a unique wine, sake, or green tea bath for adults.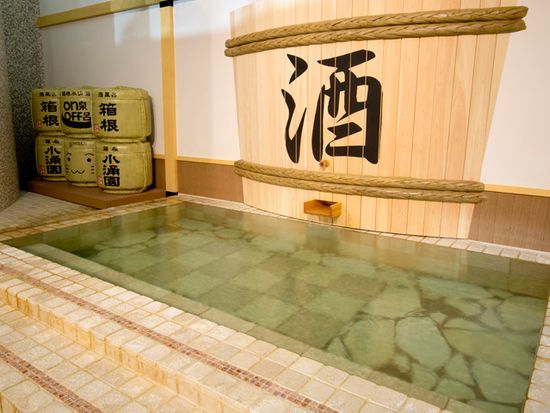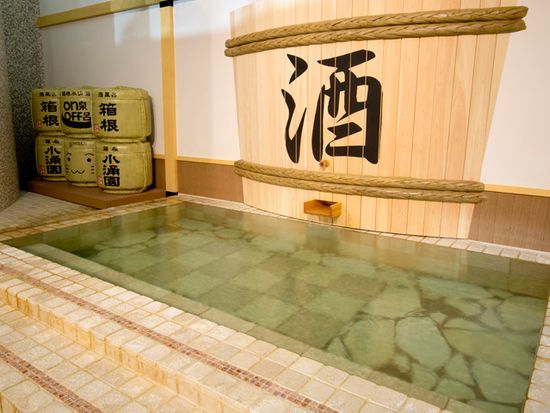 Set out for a day in the huge variety of baths and enjoy the attractions of Yunessun in this reasonable plan!
Overview
Morning, Afternoon, Evening
Inclusions: Yunessun entry fee (bathing suit area)
Enjoy unlimited access during business hours.
Yunessan: 9:00 to 18:00
*Please enter the facility by 1 hour before the closing time.

The last order at restaurant Fontana is 17:30.

You will be given a wristband with a locker key. Please go to your designated locker to store your belongings.
Get changed into your bathing suit and bring your wristband with you. The bar code on the key will keep track of your expenses you spend in the facility.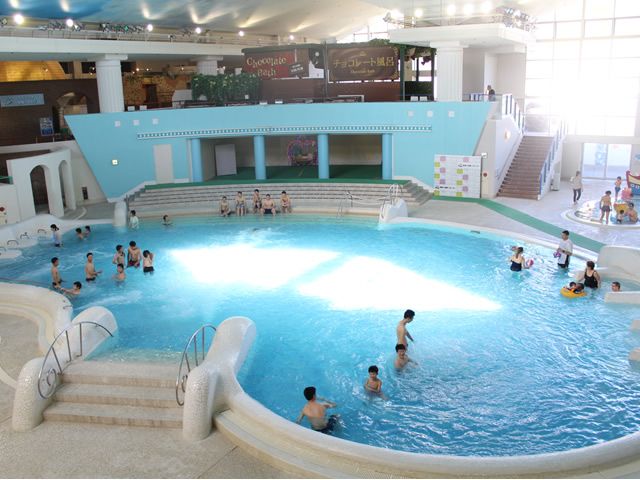 Large spa designed with a motif of the Mediterranean Sea. You can enjoy bathing rain or shine in this all-weather swimming spa. Enjoy the feel of the water and the spaciousness of the facility as well. Once every 30 minutes, you will be amazed by the fountain and soap bubbles jumping out.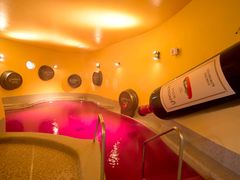 Enjoy the vivid wine color and mellow fragrance while bathing. Known as an antiaging bath, a dip in win was said to be a particular favorite of Cleopatra.
There will be a wine pouring performance three times during the day.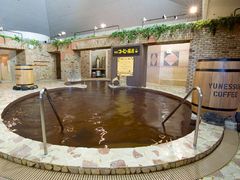 Relax and enjoy bathing in the coffee bath which is said to help recovery from fatigue, and make your skin smooth and beautiful, all while soaking in the fragrance of fresh dripped coffee.
There will be a coffee pouring performance three times during the day.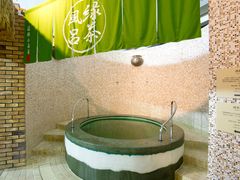 Treat yourself with a soak in the green tea bath with a scent of tea from the vivid green water. It is said to have an effect of making your skin beautiful and help to improve the circulation of the blood in your body.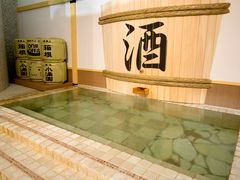 In this bath, sake is dripping from a large barrel, and the scent of sake makes you warm and relax. You may feel intoxicated just from the wonderful scent, but don't try to drink the water.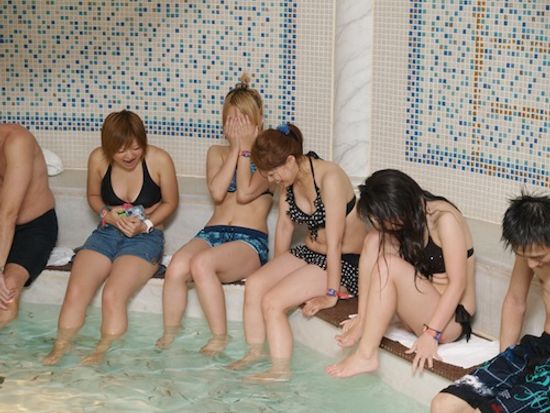 You can experience the foot care of doctor fish in an optional foot bath.
*Please note that an additional JPY 100 will be needed. It will be charged onto your wristband and can be paid for before leaving.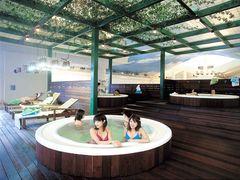 There are three bath tubs and a jacuzzi on the warm wood deck in the sunshine. Enjoy a unique type of bath for a limited period.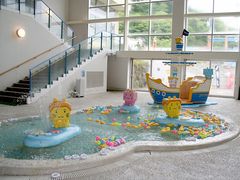 This bath is near the Gods of the Aegean.
The Yunessan mascot and his friend appear in the bath room. You can bathe with your children without worry in the shallow bath tub of 30 cm.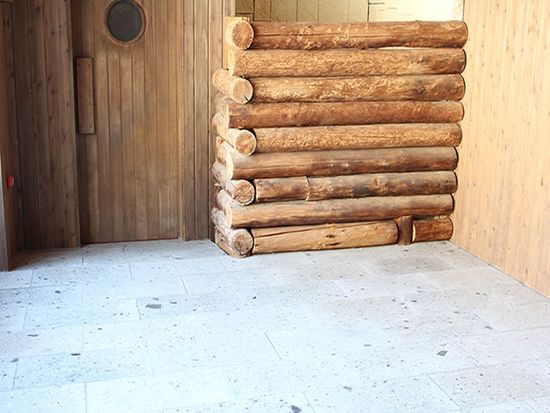 Heat up in the Finnish style sauna near Rodeo Mountain. It will be a nice and comfortable to dip in the hot spring after perspiring in the Finland bath.
Rodeo Mountain Water Slider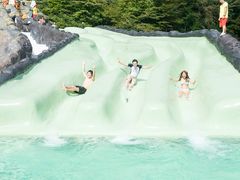 Rodeo Mountain is one of the main features of Yunessan.
Dynamic water slider on which you can feel as if you are sliding down an actual rapid stream.
You can play on the attraction even in winter in the warm water.
*Please note that children must be over 110 cm tall to participate.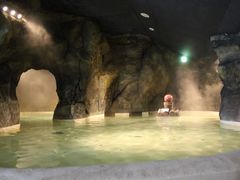 Go deep into the depths of the cave to find the mysterious cave bath. You can feel the nature of Hakone in the spray of the waterfall.


Climb up and down the pipes and have fun with your kids. Children can enjoy crossing the bridge, spinning the pump, and playing on the slide.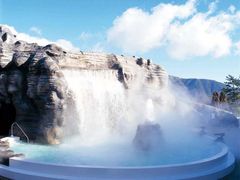 Feel the power of the water as it showers down like a waterfall.
Location
Pick-up/Check-in Time & Location
Drop-off/Check-out Time & Location
Payment / Cancellation Policy
Payment Methods
Credit card payment
Cancellation Policy
Any cancellations made after 1 hours prior to the activity start time will be subject to a charge of 100% of the total amount.
Top-Rated Activities for Hakone/ Odawara
Restrictions
Though there are several shallow baths for children, we ask you to go accompany your children in the baths.
For infants who use diapers, please use a diaper for bathing and wear the swimsuit on top of it.
*Diapers for bathing are sold at Shop & Rental Ukiuki.
We cannot accept individuals in the early stages or the third trimester of pregnancy by law. Those in the stable period can participate on their own responsibility.
Children must be at least 110 cm tall to participate in the rodeo slider.
Required items to bring & attire
Printed VELTRA voucher
Bring a bathing suit and towel.
You can rent a bathing suit at the Shop & Rental ukiuki for an additional fee.
For sanitary reasons we ask that you please refrain from bringing beverages. Please drink at the shops in the facility or buy from the on-site vending machines.
Also, please do not hesitate to tell us if you have food allergies, or need to bring special food or drink like baby food etc.
Bath towels (JPY 100) and face towels (JPY 50) are available.
Shampoo, conditioner, bath soap and hair dryers are available for use for free.
You are welcome to bring your own floats or beach balls. Air pumps are available to use.
Other requirements
You can enter the facility at any time regardless of the time you reserved.

Business hours:
Yunessan: 9:00 to 18:00
Please enter by 17:00.
Additional notes
We have about 5,000 lockers with a wrist band key. There may be cases where we have to ask you to wait for a while to enter if all 5,000 lockers are being used.
You can enjoy playing in the hot spring theme park in summer or winter!
We ask for your understanding that we can not accept uncovered tattoos of any size.
Disability discounts are available. Participants with ID along with one helper will be eligible for this discount. Please inquire prior to booking.
You will be able to use your wristband key for any purchases within the facility. All purchases made can be paid for at the end of the activity.
Booking requirements (# of participants, vehicles, hours, etc.)
You can book a maximum of 10.
Special Entry for the Hot Spring Theme Park Yunnesun in Hakone
Make your way to the amazing hot spring theme park. Enjoy a dazzling variety of pool-sized baths, a water slider bath for kids, and a unique wine, sake, or green tea bath for adults.