Mangrove Kayak Eco Tour on the Okukubi River from Onna
Overview
Okinawa Main Island
Available Daily
Pick-up available
What to expect
Paddle along the tropical Okukubi River, where countless mangrove trees grow and fish swim, on a family friendly eco tour perfect for all ages.
Special Deal: Special offer
Special Deal: Special offer
Overview
Inclusions: Snorkeling equipment (snorkel, mask & fins) / Kayak / Life jacket / Marine boots / Insurance / Complementary picture / Guiding fee / Wet suits / Parking fee / Shower fee
Check-in at Good Life or Pick-up from Hotel
Departure Preparation
(20 minutes)
Sign in, change clothes, get briefed on the day, and get ready to start!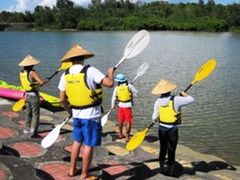 Learn the proper way to paddle and use your kayak, and learn about the ecosystem of the mangroves.
Put theory into practice as you head for the tour area on the Okukubi River.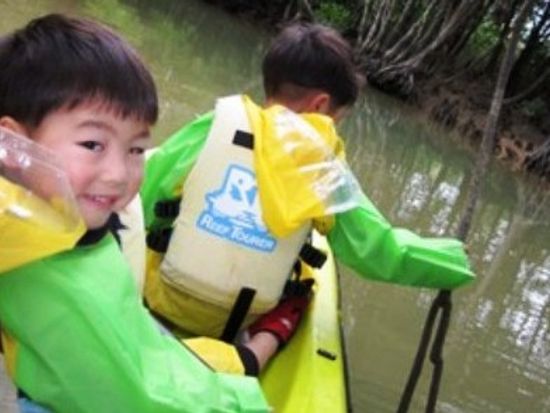 Enjoy an informative and fun tour that the whole family can participate in!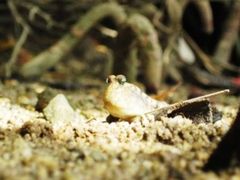 Try to spot the unique creatures of the mangroves, like the goby fish.
Once back, enjoy a warm shower and change clothes, then receive your CD with the day's pictures!
Check-out at Good Life or Drop-off at Hotel
Location
Pick-up/Check-in Time & Location
Drop-off/Check-out Time & Location
Payment / Cancellation Policy
Payment Methods
Credit card payment
Cancellation Policy
Any cancellations made after 1 hours prior to the activity start time will be subject to a charge of 100% of the total amount.
Top-Rated Activities for Okinawa Main Island
Editor's Picks for Okinawa Main Island
Restrictions
Please understand that this tour is for participants that understand enough Japanese to communicate with the staff.
Participants aged (3-70) years old that are in a good health condition may join in this activity.
Mangrove tours require certain water depths to operate. Please make sure your desired start time is available on the day of your tour. Mangrove Kayak Schedule 2019.pdf
As this activity will be conducted on an open field, participants with the following ailments are not permitted to join in this tour.
-Cardiovascular, cerebral, asthmatic, epileptic ailments
- Cannot disembark or board the kayak on their own due to foot problems
- Under the influence of alcohol
- Weights 120 kg and above. (normal kayaks can be rented but not clear kayaks)
Required items to bring & attire
Swim suit, towel, change of clothes.
Please bring the following for convenience:
- Summer: hat, sunglasses, long-sleeved t-shirts or rash guard (with UV protection), sunblock, motion sickness medication.
- Winter: windbreaker or winter jacket.
Additional notes
Check-in and check-out are at the Good life shop. Depending on the booking condition, pick-up and drop-off within hotels in Onna may be accommodated. Please inquire through VELTRA.
This activity will be conducted even during rainy weather. But in case there are strong winds and typhoon this activity will be subject to cancellation. In such case, participants will be informed about the matter beforehand.
The activity time may slightly differ depending on the water tide.
Participants are advised to go to the restroom prior arriving at that shop to prevent from waiting as there is only one restroom available at the shop.
The tour will be subject to cancellation in case of the following:
- Incoming typhoon
- Poor visibility due to typhoon
- Official warning and announcement.
Please inform as soon as possible in case of cancellation and request for a different plan.
One CD-R data will be provided per group only.
Mangrove Kayak Eco Tour on the Okukubi River from Onna
Paddle along the tropical Okukubi River, where countless mangrove trees grow and fish swim, on a family friendly eco tour perfect for all ages.