Sunset Sea Kayak Cruise from Yomitan
Reviews
Great !
Emeline
Posted on:
2019/03/22
| Emeline
Great experience
Theo Nico Max
Posted on:
2018/11/27
| Theo Nico Max
Read more
Overview
Okinawa Main Island
1.5 hour(s)
Available Daily
English, Japanese
Pick-up not available
What to expect
Slowly row your kayak into the sunset as you paddle through the sea of Okinawa. Witness the breathtaking scenery of the sun setting into the horizon for an unforgettable experience
Overview
Inclusions: Insurance / English-speaking assistant / Japanese-speaking guide / Equipment rental (Sea kayak set and life jacket) / Towel / Drink
Sea Kayak
(Approx 90 min)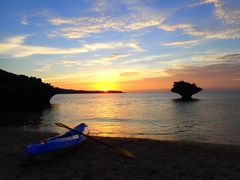 Before entering the sea, practice the basics of rowing and handling the kayak. Your instructor will accompany on your kayak cruise as you make your way out to see the beautiful sunset across the sea.
Location
Pick-up/Check-in Time & Location
Drop-off/Check-out Time & Location
Notes
Restrictions
Participants must be physically and mentally fit.
Participants must be between the age of 10 and 70.
Additional notes
Prescription goggles are available for those who wear glasses. You may join wearing soft contact lenses as well.
Tour schedule may change due to some conditions.
This tour will be held only in Japanese.
Required items to bring & attire
Please wear your swim wear in advance.
Swim wear and a change of clothes is necessary.
Swim wear is not available for rent.
During the peak summer season, the sunlight is very strong. We recommend you to wear sun screen, rash guard or long-sleeved T-shirt and shorts.
A hat to avoid rain and sun is recommended.
Bringing sun screen is recommended.
Booking requirements (# of participants, vehicles, hours, etc.)
You can book a minimum of 2 and maximum of 8.
Great !
2019/03/22
Friends
Emeline
Perfect guide + great scenery = amazing experience! Easy also for beginners : we felt in confidence during the entire tour :)
Great experience
2018/11/27
Friends
Theo Nico Max
Great experience. The spot is incredible, far from Naha's buildings. It was cool and relaxing even if there were clouds (too bad but not predictable!). The staff was really nice with us. Plus he has a camera and will sen...d you the photos if you have an iPhone !
We would do it again if we go back to Okinawa one day !
more
Read all reviews (43)
Payment / Cancellation Policy
Payment Methods
Credit card payment
Cancellation Policy
Any cancellations made after 18:00 local time, 1 business days prior to the activity will be subject to a charge of 100% of the total amount.
Top-Rated Activities for Okinawa Main Island
Editor's Picks for Okinawa Main Island
Sunset Sea Kayak Cruise from Yomitan
Slowly row your kayak into the sunset as you paddle through the sea of Okinawa. Witness the breathtaking scenery of the sun setting into the horizon for an unforgettable experience