Athens Old and Modern City Electric Bike Guided Tour
Reviews
楽々サイクリング!
RC40
Posted on:
2019/06/15
| RC40
アテネに着いて早めの参加をお勧めします。
Narumi Adachi
Posted on:
2016/04/02
| Narumi Adachi
Read more
Overview
Athens
4.5 hour(s)
Available Mon, Tue, Wed, Thu, Fri, Sat
English
Pick-up not available
What to expect
Ride on your e-bike and journey to Athens top attractions. On this 4 hour tour, see the Acropolis, Temple of Zeus, National Garden of Athens, Panathenaiko Stadium, Monastiraki, Plaka and more!
Overview
Available Mon, Tue, Wed, Thu, Fri, Sat
Inclusions: Bottled water / Helmet / Map / English-speaking guide / Use of earphones / Post card / Use of Electric bike / Souvlaki and Loukoumades tasting
Check in at Solebike Office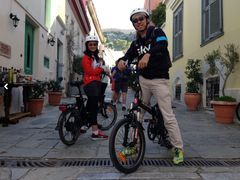 Meet your friendly guide who will help you with your equipment and e-bikes.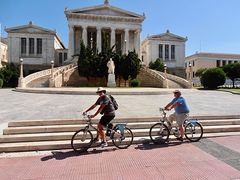 Cycle your way to the 19th century area of the city. Marvel at the first Palace and the National Garden, formerly the Royal Garden and more!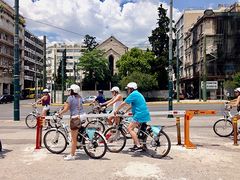 Pedal through the market streets and discover the Athenian lifestyle. Also, pass by the famous Varvakios Market and the Town Hall.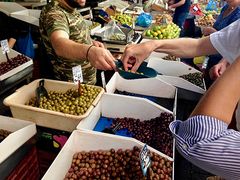 Explore the city's neighborhoods and popular destinations. See the Monastiraki, a flea market place and shopping district and the Psirri, known for its tavernas, restaurants, bars and hotels.
Head to Plaka, an old historic neighborhood with sidewalk cafes, tavernas and various shops selling clothes, jewelry, ceramics and other local products.
Location
Pick-up/Check-in Time & Location
Drop-off/Check-out Time & Location
Notes
Restrictions
Guests who are pregnant are not permitted to participate in this activity.
If less than 2 participants are booked, the activity may not operate.
People 13 years old and above can participate in this activity.
Additional notes
Always wear a helmet when cycling.
Required items to bring & attire
Comfortable clothing
Sunglasses
Sneakers
Sunscreen
楽々サイクリング!
2019/06/15
Solo Travelers
RC40
アテネ観光初日に参加しました。
豪州から参加のご夫妻と3人をご一緒です。
電動チャリは結構強力ですが、普通に自転車乗れれば問題ありません。
ただ日本と違ってブレーキレバーが左右逆(右リア、左フロント)
カゴとかありませんので、リックやショルダーでの参加が必須ですよ

全て英語での案内ですが、説明は理解可能かと思います。
ただ全く英語ダメな人はダメですね。ただのサイクリング

4時間で12kmって結構あるんですよ
陽射...しが強くて、湿度高めだったので結構汗かいたので終わった時はお疲れモード
途中と最後にエネルギー補給休憩がありますので、お楽しみです。
あとお水の提供もありました。
参加して良かったのは、アテネ観光地の位置関係が把握できることです。
歩いて回るには結構厳しい
more
アテネに着いて早めの参加をお勧めします。
2016/04/02
Solo Travelers
Narumi Adachi
アテネの珍味にひかれて参加しましたが、するめいかとかそんなものじゃなくおやつ系でした。

タイトルはおやつが楽しめるに変えたほうがいいかもしれません。

スケジュールが合うなら、初日に参加して町の概要を知ると観光しやすくなると思います。

他に参加する人が急きょキャンセルしたため、ひとり催行になりましたが、自転車もピカピカでよく整備されていて、ヘルメットも衛生管理されて使い捨ての中に被る紙キャップつきでした。

ガイドを...してくださった方の英語もわかりやすくて、交通安全にもすごく気を付けてくださいました。スタート地点はアクロポリスの近くです。早めに帰り着いたので、ストで行けてなかったアクロポリスと博物館も帰りに見ることが出来ました。

more
Read all reviews (2)
Activity Provider
solebike
Payment / Cancellation Policy
Payment Methods
Credit card payment
Cancellation Policy
Any cancellations made after 10:00 local time, 2 business days prior to the activity will be subject to a charge of 100% of the total amount.
FAQ
What is an electric bike? How does it work?
An Electric Bike is ideal for urban commuting and short trips around town. It's lithium-ion battery provides clean and efficient energy to a 250 watt motor to power up to 25 km/h and gives a good lift to uphills. The tou will be operated at low speed.
It also operates quiet, so you can appreciate the world you're riding through.
Will you teach me how to ride an electric bike?
If you are not a bike rider this activity may not be a good choice. The e-bike is heavier than a regular one and the electric power assist does not compensate for poor riding skills.

All first time clients are required to take a quick familiarizing session of the bike controls and operation under our staff guidance. This session is designed to ensure a safe and enjoyable experience and is part of the overall tour time.

Familiarizing time varies with group size and skill level. Riders are instructed on basic electric bike operation, emergency stops and "Share the Road" policy. All riders are required to wear the helmet provided.
Who can ride an electric bike?
Riding an electric bike is similar to riding a regular bike. Although it's intuitive for a skilled rider, you will have 10 minutes of training so you can get familiar with the operation.

An e-bike is not an ideal mode of touring for people with some mobility issues. The bike weighs 23-25 kg (55 pd) and will need to be pedalled along the route.

Due to risk of fall, this activity is not recommended for pregnant women and they may participate at their own risk.

Ages 15 and up are allowed to ride pedelec. The suggested minimum weight for any rider is 40 kg (88 pd).

Client under 18 years of age must be accompanied by a parent or guardian.

What should I wear? What if it rains?
During summer, dress comfortable, light and in layers and lots of sunblock.
We highly recommend, comfortable closed toe flat shoes (no high heels, sandals or flip flops).
During the winter months, bring an extra layer of warm, wind resistant clothing. Gloves are not a bad idea for cold days.

Rental of handlebar basket for cameras, light jackets and small purses (7 kg max) is available. Backpacks or bulky bags will not fit in the handlebar basket. Please leave bulky backpacks at your hotel.

Tours run all year long. Rain gear is available for the rare rainy days. Electric bikes are designed to run in any weather.
What if it's very hot during summer in Athens?
The average day temperature during the hot months of summer (July and August) in Athens, is 32 Celsius degrees. Some days, the temperature can rise up to 36 - 38 Celsius degrees. Even more rare, thermometer will indicate temperature above 39 degrees.

The tour will operate except in the event of extreme uncomfortable conditions (too warm for cycling). Still electric cycling, takes away most of the stress to pedal and makes riding fun even during warm days. Besides that you will be provided with 1 or 2 water bottles.
Please visit VELTRA Support page to send an inquiry about this activity.
VELTRA Support
Top-Rated Activities for Athens
Editor's Picks for Athens
Athens Old and Modern City Electric Bike Guided Tour
Ride on your e-bike and journey to Athens top attractions. On this 4 hour tour, see the Acropolis, Temple of Zeus, National Garden of Athens, Panathenaiko Stadium, Monastiraki, Plaka and more!