Tuscany Tour from Florence with Pisa, Siena Tour, San Gimignano, Chianti Wine
Highlights
Handy Siena Duomo tickets included
Farm-to-table lunch at a Chianti winery
Free time in each town on this Tuscany and Pisa from Florence tour
Chianti wine tasting with 4 varieties
Transportation by air-conditioned coach
Reviews
A definite must to see a little piece of all the wonders of Tuscany!
Crystal Gates
Posted on:
2019/08/12
| Crystal Gates
Excellent Tuscany trip with lunch
Elena
Posted on:
2018/11/28
| Elena
Read more
Overview
Florence
12 - 12.5 hour(s)
Available Daily
English
Pick-up not available
Lunch
What to expect
Give your eyes and taste buds a treat on this Tuscany and Pisa day tour from Florence! Visit the Siena Cathedral, take photos by the Leaning Tower of Pisa, take in the medieval skyscrapers of San Gimignano, and savor lunch and Chianti wine in 1 day.
Overview
Inclusions: Lunch / Map / English-speaking guide / Siena Cathedral ticket / Tasting of Tuscany wines / Transportation in an air-conditioned coach
Check-in Outside Santa Maria Novella Train Station
Start of Tuscany from Florence Day Trip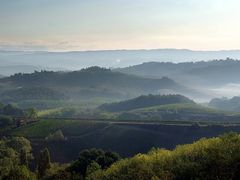 Hop on the air-conditioned coach and get whisked off to start your day of visiting Tuscany's best sights. Travel to Siena from Florence for the perfect start to your day.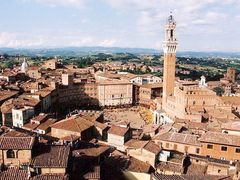 Follow your fun local guide on a walking tour of the UNESCO World Heritage site of Siena. Learn about the world's oldest bank then roam Piazza del Campo, where the Siena horse race takes place. Check out the priceless artwork inside the Siena Cathedral and marvel at its architecture from outside.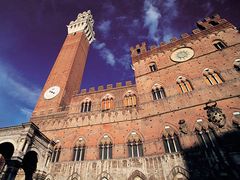 After the guided tour, explore the cobblestone streets at your leisure, and perhaps have a taste of the local specialty of chestnut sweets with a quick espresso at your own expense.
Lunch at a Chianti Winery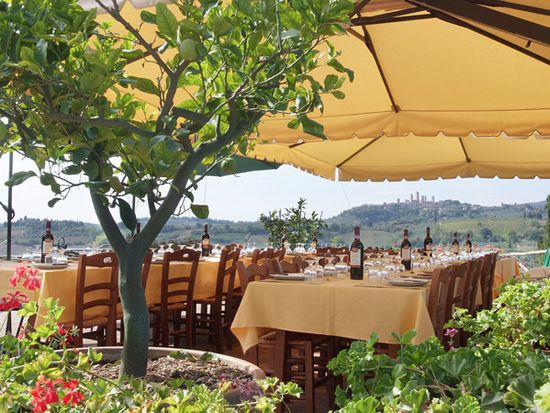 Visit a winery and partake in a tasting session of 4 fine Tuscany wines including Chianti, Vernaccia and Vin Santo, while overlooking the Tuscany countryside. Indulge in lunch made up of fresh organic farm food: homemade pasta, prosciutto, salami, local cheeses, garden salad and Tuscan biscotti.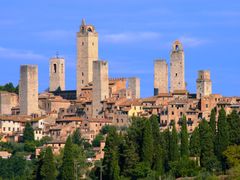 Drop by the enchanting San Gimignano, a UNESCO World Heritage site. Marvel at its medieval towers which overlook the rolling countryside of Tuscany and make sure to grab some gelato which has been hailed as the best in the world.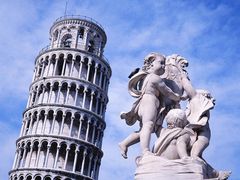 A scenic drive through the picture-perfect Tuscany countryside will take you to the last stop of the day, Pisa. Pose for photos by the unmissable Leaning Tower of Pisa, as well as the Cathedral and Baptistery nearby.
Check-out at Santa Maria Novella Train Station
Location
Pick-up/Check-in Time & Location
Drop-off/Check-out Time & Location
Notes
Restrictions
Due to the uneven and steep surfaces, guests with walking difficulties or wheelchair users are permitted to participate in this activity.
Additional notes
Tour duration during winter (November to March) will only be for 11 hours instead of the usual 12 hours.
Please indicate upon booking if you have any food allergies, dietary restrictions, or other special requirements.
When the Duomo of Siena is closed for religious services, Santa Maria della Scala museum will be visited instead.
Please note that this tour involves a moderate amount of walking.
This tour is eligible for the VELTRA free cancellation policy. You can book this tour and still keep your travel plans open. If you change your mind, VELTRA guarantees no penalty fees for cancellations made up to 24 hours before your tour date. Please refer to the pdf below for the terms and conditions.
Required items to bring & attire
Please wear clothing that covers from the shoulder to knee to enter the Siena Cathedral and other religious places.
Walking shoes
Booking requirements (# of participants, vehicles, hours, etc.)
You can book a maximum of 57.
A definite must to see a little piece of all the wonders of Tuscany!
2019/08/12
Couples
Crystal Gates
The tour is a great way to get a taste of all of the best parts of Tuscany. and gives you a little free time in each place to explore on your own after each short, but great and interesting, tour of each city. All the i...nformation provided by Alexandra was great. She is really passionate about history. You get to experience the highlights of Siena, see and eat a fabulous lunch with lots of great food, at a beautiful local farm in Tuscany. Be sure to leave time after eating to shop in the wine store, which also carries other products from the farm. Then see the small town of San Gimignano where you can buy the best gelato in the world (they've won the world competition twice!). Then we took a little siesta on our way to Pisa. Pisa is so beautiful as well.

Tips:
1. Bring single euros to buy water on the bus/ coach. I was really surprised that bottled water wasn't included, or at least a couple bottles on this 12 hour tour.
2. Stop for the restroom when you can (bring change as most charge 0.50 or 1 euro each). For such a long day, there are only a few chances for the restroom, and most have long lines.
3. One of the churches you go inside requires shoulders to be covered, but if you forget, they do provide a paper scarf for your visit for free.

The day was long, but perfect to explore a little piece of each. The tour could only be improved by giving a little extra time after lunch to buy wine and/or other items from the farm's store and to use the restroom, as this was really rushed (only 15 min from the time the dessert wine and biscotti were served to the time the bus leaves). I got up before everyone else and went to the store, quickly ordered the wine for shipping, without looking around in the store, and it was time to go... no time for the restroom). And there is no restroom on the bus.

Overall a fabulous day. One of top 2 tours in Italy! Would definitely recommend this one!
more
Excellent Tuscany trip with lunch
2018/11/28
Solo Travelers
Elena
The trip was very well managed and the guide was excellent. A lot of information about Siena, San Giminiano and Pisa and beautiful landscapes. The meal was very good and I enjoy also the wine test. I strongly recommend t...his tour.
more
Fun, long Day!!
2018/10/28
Couples
KittyG
Very fun day - Long, though. Pisa was not our favorite, but the others were wonderful. Packed a lot of Tuscany in 12 hours!
Read all reviews (109)
FAQ
Q. Does this tour include Leaning Tower of Pisa tickets?
A. No, but you can purchase tickets onsite.
If you wish to do so, please note that children 8 years and under are not permitted to climb the Leaning Tower of Pisa.
Please visit VELTRA Support page to send an inquiry about this activity.
VELTRA Support
Payment / Cancellation Policy
Payment Methods
Credit card payment
Cancellation Policy
Any cancellations made after 08:30 local time, 3 business days prior to the activity will be subject to a charge of 100% of the total amount.
Top-Rated Activities for Florence
Editor's Picks for Florence
Tuscany Tour from Florence with Pisa, Siena Tour, San Gimignano, Chianti Wine
Give your eyes and taste buds a treat on this Tuscany and Pisa day tour from Florence! Visit the Siena Cathedral, take photos by the Leaning Tower of Pisa, take in the medieval skyscrapers of San Gimignano, and savor lunch and Chianti wine in 1 day.