Exclusive Catacombs of Rome After Hours Evening Tour with Capuchin Crypt Visit
Highlights
Enter Rome's Catacombs after closing hours
See the Capuchin Crypt, decorated with the remains of 4,000 monks
Round trip transportation included
Reviews
Awesome experience
Liz Ann
Posted on:
2017/08/30
| Liz Ann
Read more
Overview
Rome
3 hour(s)
Available Mon, Tue, Wed, Thu, Fri, Sat
English
Pick-up not available
Not Accessible
What to expect
Come inside the Roman Catacombs at night after closing hours for an exclusive access to the Santa Priscilla Catacombs. Discover the story behind the creation of the Capuchin Crypt and Museum.
Overview
Available Mon, Tue, Wed, Thu, Fri, Sat
Inclusions: Transportation fee / English-speaking guide / Special access to Rome Catacombs after closing / Capuchin Crypt & Museum tickets
Check-in at the 100% BIO Bar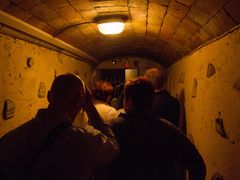 Explore the labyrinth of passages hidden beneath the streets of Rome! The catacombs were created by Rome's first Christians during a time when their religion was heavily persecuted. Take advantage of the after-hours visit and discover this hidden secret of Rome without the usual crowds!
Capuchin Crypt and Museum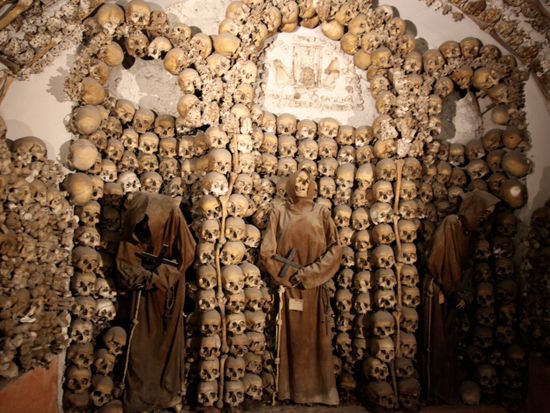 Also known as the Bone Chapel, the Capuchin Crypt is a set of chapels decorated with the bones of 4,000 deceased monks. Then, visit the Capuchin Museum and see the disputed Caravaggio and some mementos of monks.
Catacombs of Santa Priscilla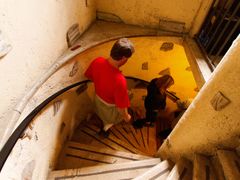 Head to the Catacombs of Santa Priscilla, home to the oldest known drawing of the Virgin Mary and once known as the place where seven Popes' remains were kept.
Tour Ends at Rome City Center
Location
Pick-up/Check-in Time & Location
Drop-off/Check-out Time & Location
18:30
Rome City Center
19:00
Rome City Center
19:15
Rome City Center
19:30
Rome City Center
20:15
Rome City Center
20:45
Rome City Center
21:00
Rome City Center
Notes
Restrictions
Guests with mobility impairments or strollers cannot be accommodated.
This activity is not wheelchair accessible.
Guests should not have serious fear of enclosed spaces (claustrophobia).
Other requirements
Cameras and photography are not permitted.
Booking requirements (# of participants, vehicles, hours, etc.)
You can book a maximum of 18.
Required items to bring & attire
Walking shoes
Clothing that covers from the shoulder to knee
Additional notes
Please arrive at your check-in location 15 minutes prior to the start time.
Awesome experience
2017/08/30
Friends
Liz Ann
Lots of fun! Very entertaining and the tour guide was awesome!
Read all reviews (1)
Activity Provider
WALKS LLC
Payment / Cancellation Policy
Payment Methods
Credit card payment
Cancellation Policy
Any cancellations made after 15:45 local time, 3 business days prior to the activity will be subject to a charge of 100% of the total amount.
FAQ
What languages are your tours conducted in?
English. This tour does not operate in multi-language, which means you'll never have to wait for translations.
How will I recognize my tour guide?
Either your tour guide or a tour coordinator will be waiting at the tour meeting point 15 minutes before your tour start time. They will be holding up a sign with the Walks of Italy logo on it.
What If I'm running late to my tour?
We ask all guests to arrive at the tour meeting point at least 15 minutes before the scheduled start time of their tour. If you have difficulty finding the meeting point or are delayed along the way, please call the emergency phone number, (Italy) +39-069-480-4888 not the regular customer service number.
How far in advance should I book my tour?
It's hard to say. We recommend booking as soon as you can as these services often sell out in advance and have limited-availability. If you know what tour you want to book though, we would always say to book as soon as you can.
The tour description says tour is 'all-inclusive'. What does that mean?
It means the tour price listed on our website includes all ticket, reservation and entrance fees. There won't be any nasty surprises on the day of your tour, so you could leave your wallet at home (unless you felt like tipping your tour guide).

Do you accept last-minute bookings?
When we have space! Check the website for availability first. If you can't find what you're looking for there is a chance that it's sold out or it may just be off-sale because it's within a day or two of tour running time.
Should I tip my tour guide?
It's really up to you. If you enjoyed your tour and feel like you received exemplary service from your guide, it is customary to leave a tip at the end of the tour. It's not obligatory though and we won't hold it against you if you don't – nor will your guide.
Can I take your tours if I have walking difficulties or require a wheelchair?
Unfortunately we are unable to accommodate wheelchairs on most of our group tours for a variety reasons. That said, in most cases we can serve wheelchair users on our private tours, to allow the guide to adapt the route to their particular requirements. Please get in touch with us before you book, however, and be aware that guests are responsible for propelling their own chairs – guides will be unable to do this.
I am traveling with a small child – can I bring a stroller with me?
Not on all tours. Please get in touch with our us before bringing a stroller on your tour. Some sites will not allow you to bring a stroller inside and we may not have suitable storage options. If you let us know in advance we can help you to arrange a suitable solution.
What should I bring on my tour?
We recommend all customers bring photo ID with their date of birth listed plus the confirmation voucher. For all tours involving walking, we would recommend that you wear comfortable shoes. If you're visiting in warm weather (May – Sep) we recommend that you bring sunscreen, a bottle of water (which you can refill along the way) and a hat. During the cooler months we would recommend that you bring a coat and possibly a rain jacket and/or umbrella.
It's raining, is my tour still running?
Yes! The tours run rain or shine. On some very rare occasions, when the weather is particularly dramatic, some outdoor sites may be closed. On these occasions we will try to contact you in advance, where we have warning.
What's the difference between a 'group' and a 'private' tour?
A group tour is one where you join a group of other travellers and a single guide – our groups are usually around 12 people, although they can be a little larger, particularly on day trips. Because our groups are so small, you'll still find it easy to hear and interact with your guide and it's more effective than a private tour, which is when you pay to have your own personal tour guide (and/or transfer) just for you.
Please visit VELTRA Support page to send an inquiry about this activity.
Veltra Support
Top-Rated Activities for Rome
Exclusive Catacombs of Rome After Hours Evening Tour with Capuchin Crypt Visit
Come inside the Roman Catacombs at night after closing hours for an exclusive access to the Santa Priscilla Catacombs. Discover the story behind the creation of the Capuchin Crypt and Museum.