Go on a guided tour to the mountainous region of Monistrol de Montserrat, a spectacular destination for a day trip from Barcelona. Nestled on the top of the hill is the stunning Benedictine Monastery of Santa Maria de Montserrat and its beautiful Royal Basilica, where the holy statue of the Virgin of Montserrat ('La Moreneta' or 'Black Madonna') can be found. Let us take care of the round trip transportation from Barcelona as you take in the historical legacy of Montserrat.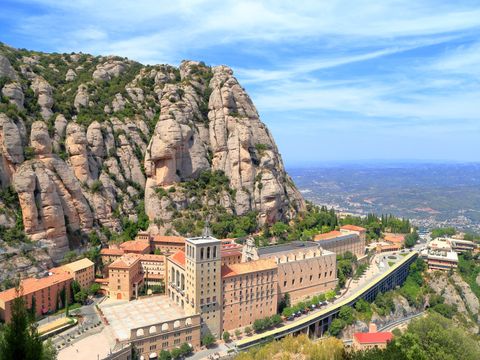 Pro tip: There are several ways of getting from Barcelona to Montserrat.

By Coach / Private Car - The easiest way to arrive to the site directly.
By Rack Railway (Cog-wheel Train or "Cremallera") - On a panoramic 15-minute journey from the bottom of the hill up to the Monastery.
By Cable Car (or "Aeri de Montserrat") The quickest and most impressive way to get to the site (5 minutes approx.).

Once up the Montserrat Hill, you can take the Funicular to Montserrat's highest point, Sant Jeroni, and admire the spectacular views of the Monastery or explore the sacred cave where the Virgin of Montserrat is believed to be discovered.