2-Day Chichen Itza Deluxe and Selvatica Extreme Adventure from Cancun
Overview
Cancun
Available Daily
Pick-up available
Lunch buffet
What to expect
Go on a 2-day tour to Selvatica & Chichen Itza, two of Cancun's top tourist attractions! See the Temple of Kukulcan, the Tzompantli and more. Enjoy thrilling activities like zip lining & cliff diving!
Overview
Inclusions: Beverages (including alcohol) / Beer / Lunch buffet / Admission / Transportation fee / Snacks / Bilingual certified INAH guide for a 2-hour tour / Admission to Cenote Ik-Kil / Admission to Maya Skies at the Mayan Planetarium / Free access to Mayaland Hotel & Bungalows amenities (including towels for the pool) / Army truck ride at Selvatica / Cenote swim / Light lunch (chicken fajitas, rice, beans and chips) at Selvatica
Pick-up at Select Cancun Hotels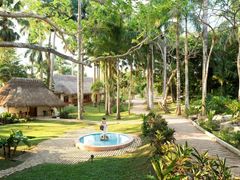 Arrive at Mayaland Hotel, perfectly located inside Chichen Itza's sacred grounds. Take a 2-hour tour at the archaeological site with your guide. Learn all about the Mayan culture and discover important structures such as the Observatory, the Nunnery, La Iglesia and Akab Dzib.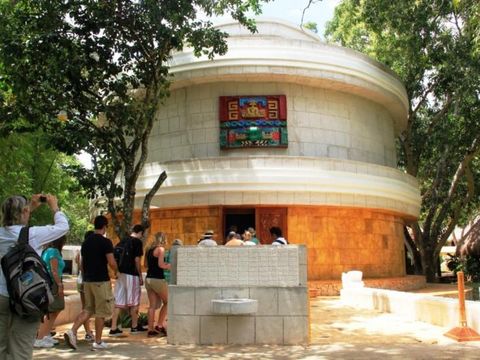 There is more to experience at Mayaland. You may opt to visit Mayan Planetarium built inside the resort (admission is included in the price).
Central and Northern Area Temples
Get access to the temples and see major landmarks including the Temple of Kukulcan, the Ball Game Court, the Platform of Eagles and Jaguars, the Platform of Venus, the Tzompantli and more. During free time, you may explore the sites on your own.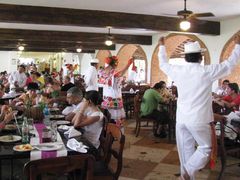 Indulge in a delicious lunch when you get back to Mayaland Hotel. Enjoy traditional Yucatan music and be amazed as you watch dance performances by the Mayaland regional ballet. After that, relax and enjoy the hotel's amenities or do fun activities like horse riding (at own expense).
Selvatica Extreme Adventure
Begin your adventure at Selvatica with a canopy tour, which includes a zipline circuit that has 9 lines and ends with the "Aqua Zipline", the brand new thrilling addition. You will also enjoy the "Tarzania Coaster" which gives you a fantastic view of the jungle.
Hop on an army truck and head to the Mayan jungle. Admire your scenic view of the jungle and arrive at the Green Light Cenote. Join exhilarating activities such as zipline and cliff diving which plunges you into the tropical waters.
End your adventure with a light lunch when you head back to the palapa (hut). Enjoy chicken fajitas and a refreshing flavored water (the menu is subject to change).
Drop-off at Select Cancun Hotels
Location
Pick-up/Check-in Time & Location
07:00-08:15
Cancun - Customer requested location
Drop-off/Check-out Time & Location
Cancun - Customer requested location
Notes
Restrictions
For Selvatica: For safety reasons, pregnant women, people with back pains or heart problems may not participate. The park also implements the following:
- Maximum weight of 330 lbs
- Maximum waist size of 47 inches
For Tanzania (Selvatica attraction): minimum weight is 99 lbs, while maximum weight to is 243 lbs.
To drive a motor vehicle inside Selvatica, you must be 16 years old or above.
Children 3 years old and above can participate in this activity.
Additional notes
The Chichen Itza Deluxe tour must be taken first. Guests can skip a few days in between, or take the tours on consecutive days.
Please note that the 08:00 time is for the Chichen Itza Deluxe portion of the two-day tour. The Selvatica Extreme Adventure tour has departure times of 09:00, 10:30, 12:00 and 13:30.
For the Chichen Itza Tour: Child rates only apply to children ages 5-11 who are under 55 inches tall (1.4 meters).
Unused portions are not refundable or transferrable.
The activity schedule is subject to change or cancellation due to weather or traffic conditions.
Other requirements
Please call the activity provider 24 hours before your activity to confirm your pick-up time and location or if there are any changes to your itinerary. Your voucher has the necessary contact information listed.
Please bring cash for the entrance fee to Chichen Itza (497 MXN).
Booking requirements (# of participants, vehicles, hours, etc.)
You can book a maximum of 20.
Payment / Cancellation Policy
Payment Methods
Credit card payment
Cancellation Policy
Any cancellations made after 07:00 local time, 1 business days prior to the activity will be subject to a charge of 100% of the total amount.
Top-Rated Activities for Cancun
2-Day Chichen Itza Deluxe and Selvatica Extreme Adventure from Cancun
Go on a 2-day tour to Selvatica & Chichen Itza, two of Cancun's top tourist attractions! See the Temple of Kukulcan, the Tzompantli and more. Enjoy thrilling activities like zip lining & cliff diving!