Full Day Teotihuacan Pyramids Guided Tour with Dinner
Overview
Mexico City
9.5 hour(s)
Available Mon, Tue, Wed, Thu, Fri, Sat
English
Pick-up not available
Dinner
Not Accessible
What to expect
Ascend to the top of the Sun Pyramid and explore other Teotihuacan pyramids! After that, walk along neighboring streets & sample various products at a cactus factory as you move along.
Overview
Available Mon, Tue, Wed, Thu, Fri, Sat
Inclusions: Dinner / Admission fee / English-speaking guide / Public/private transportation fee (depends on no. of pax) / Cactus products samplings
Check-in at Museo Mexicano del Diseño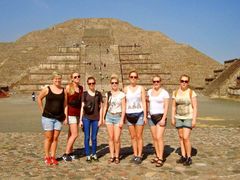 Go on an adventure outside the city and head to the Mesoamerican site of the Teotihuacan Pyramids. Take a public transit with your guide to see incredible pyramids such as the Moon Pyramid, Calzada de los Muertos & the Sun Pyramid. Strike a pose in front of these enormous structures!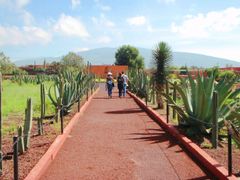 Spend the afternoon walking along the streets of a nearby town. Delve into the way of life of the Teotihuacan people and discover more about their family businesses. Learn about 'obsidian', a staple element in their daily living and try out 'pulque', a maguey cactus alcoholic drink.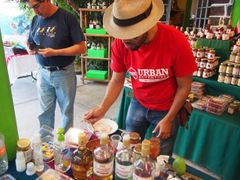 Discover a wide range of exotic products available for purchase at the same shop. Learn about goods made from cactus like jams, candies, spicy lollipops and other products made by locals from endemic vegetation. Sample some of these and purchase at your own expense if you'd like.
Treat yourself to a traditional dinner catered by a warm and welcoming local family. Feel at home and observe the traditional Mexican dining customs as you enjoy the meal at the table. Take note, this family run a very successful catering business so a great dining experience is guaranteed!
Check-out at Museo Mexicano del Diseño
Location
Pick-up/Check-in Time & Location
Drop-off/Check-out Time & Location
Notes
Restrictions
Guests who will arrive late on the specified tour start times will be left behind and will not be entitled to a refund.
This activity is not wheelchair accessible.
Children 6 years old and above can participate in this activity.
Additional notes
You will be in a small group of a maximum of twelve (12) people in this tour.
Some of the places along the route are local houses and businesses, which have irregular opening hours. Tour route and stops may vary.
For groups with more than 8 participants, the tour will be utilizing private transportation. This is for the safety and convenience of the group and for the guide to easily attend to each participant.
The activity schedule is subject to change or cancellation due to weather or traffic conditions.
The activity provider does not assume any responsibility for your valuables and/or personal belongings.
The tour guide has full discretion to refuse service to customers based on attire, behavior, physical fitness and condition.
Gratuity is not included in the price.
Drinks and meals are available for purchase
Required items to bring & attire
Please leave your valuables such as passports and credit cards in the hotel. Bring just a small amount of spending cash.
Keep large cameras discreetly stored in a backpack.
During the rainy season (May to September), it is recommend to bring a raincoat or umbrella.
A valid government-issued photo ID
Booking requirements (# of participants, vehicles, hours, etc.)
You can book a maximum of 12.
Activity Provider
Urban Adventures Limited (Americas)
Payment / Cancellation Policy
Payment Methods
Credit card payment
Cancellation Policy
Any cancellations made after 12:45 local time, 2 business days prior to the activity will be subject to a charge of 100% of the total amount.
Top-Rated Activities for Mexico City
Full Day Teotihuacan Pyramids Guided Tour with Dinner
Ascend to the top of the Sun Pyramid and explore other Teotihuacan pyramids! After that, walk along neighboring streets & sample various products at a cactus factory as you move along.