Lift Off with a Powered Paragliding Adventure in Furano
Reviews
Freaking awesome
Ian
Posted on:
2019/01/05
| Ian
Great Experience
Faruq
Posted on:
2017/03/31
| Faruq
Read more
Overview
Furano/ Biei/ Asahikawa
1.5 hour(s)
Available Daily
Japanese
Pick-up not available
What to expect
Ride the sky with a powered paraglider as you soar over Furano, the flower capital of Hokkaido! Check out the mountains and flower fields as you float up to 400 meters in the air.
Overview
Inclusions: Japanese-speaking guide / Paragliding Experience / Instructor
Flight Preparation
(15 minutes)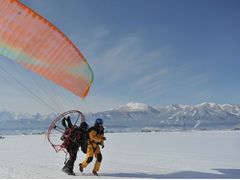 Join your instructor and learn everything you need to know for a fun, safe, and exciting flight.
Powered Paragliding Adventure
(10~15 minutes)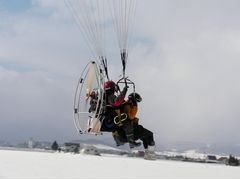 With a motor powered glider, you can take off directly from the ground, and depending on weather may go up to 400 meters for a birds-eye view of the scenery!
Location
Pick-up/Check-in Time & Location
Drop-off/Check-out Time & Location
Notes
Restrictions
When booking please enter 3 different possible start times. The activity provider will then contact you with the available flight time.
The probability of flying is 50%. Depending on weather the start times and location may change, so please give yourself extra time when taking part in this activity.
Guests must be of middle school age or older to participate. Minors must participate with a parent or guardian.
Anyone between 40~70 kg may take part. If you are heavier or lighter, please let us know so we can discuss options.
Currently the activity provider does not have English-speaking staff, but have translation applications on site. They will communicate through staff at your hotel to make sure guests know the correct start time and location for the activity.
Other requirements
Please pay an additional 500 JPY on the day for Accident Insurance coverage.
Booking requirements (# of participants, vehicles, hours, etc.)
You can book a maximum of 6.
Required items to bring & attire
Please wear comfortable clothes and shoes appropriate for walking. In winter, please wear proper winter gear (like ski wear).
Additional notes
Each guest will fly with an instructor.
You may not bring anything on the flight that might fall off. Cameras with strong straps or glasses that can be secured to the wearer may be used.
If you cannot fly due to bad weather or high winds, we will not charge a flight fee.
As winds can get stronger throughout the day there is a higher possibility of the activity being cancelled in the afternoon. As such, we recommend booking an early morning flight.
If you are arriving by car, there is free parking for your convenience.
The instructor was extremely nice and tried his best to make sure that we had fun. The experience is priceless and highly recommended!
Paragliding in Furano is absolutely awesome! The instructors there are very professional and fun person!
Great Fun
2016/08/15
Couples
Cecilia from HK
It was great fun! The instructor was very professional.
Two things to note: firstly, need to expect some delay waiting for wind; secondly, watch out for the sign post along the main road a bit south west of Gakuden Sta...tion, or else quite difficult to find.
more
Read all reviews (30)
Payment / Cancellation Policy
Payment Methods
Credit card payment
Cancellation Policy
Any cancellations made after 18:00 local time, 2 business days prior to the activity will be subject to a charge of 100% of the total amount.
Top-Rated Activities for Furano/ Biei/ Asahikawa
Editor's Picks for Furano/ Biei/ Asahikawa
Lift Off with a Powered Paragliding Adventure in Furano
Ride the sky with a powered paraglider as you soar over Furano, the flower capital of Hokkaido! Check out the mountains and flower fields as you float up to 400 meters in the air.