Rhine Valley Cruise and Tour from Frankfurt with Lunch and Wine Tasting
Reviews
good except River Cruise was too short
Robin
Posted on:
2019/05/11
| Robin
Very enjoyable day
Sam C.
Posted on:
2018/07/02
| Sam C.
Read more
Overview
Frankfurt
8 - 10 hour(s) incl. transportation
Available Daily
English
Pick-up available
Lunch
What to expect
Go on an unforgettable day tour from Frankfurt to the Rhine River Valley, a known UNESCO World Heritage site. Enjoy sights of the river, quaint villages, medieval castles and vineyards.
Overview
Inclusions: Wine tasting / Lunch / Transportation fee / Cruise fee / English-speaking guide/driver
Pick-up from Specific Hotels in Frankfurt or Check-in at ETS GmbH Office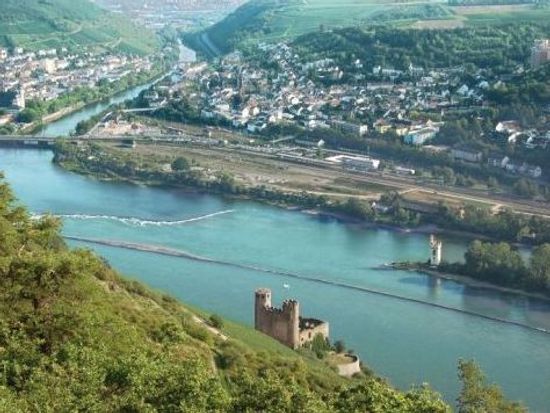 The Rhine is the second longest river in Central and Western Europe, a river surrounded by romantic villages, lush vineyards and medieval castles. This river also played an important role in carrying trade and goods, eventually becoming a symbol of German patriotism.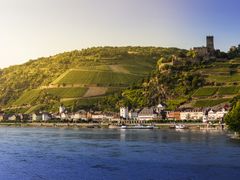 Find the famous Loreley Rock and enjoy the view from the Niederwald Monument after an optional cable car ride to the top of the hills in summertime. You will also enjoy a delicious lunch in a beautiful restaurant at the riverside.
Cruise down the Rhine River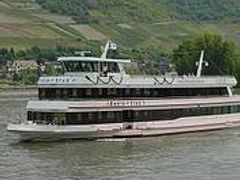 A trip to Rhine Valley wouldn't be complete without a scenic boat trip on a Rhine River! Enjoy a steamer cruise up to St. Goarshausen and admire the villages and castles along the way. In winter, tours will visit a castle when steamers are not operating,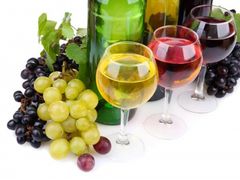 End the tour with a wine tasting session in a little tavern. Take a sip of the finest wines famous in the region. If time permits, guests will have the chance to shop for souvenirs at Rüdesheim am Rhein, another UNESCO World Heritage site in the region.
Drop-off at Specific Hotels in Frankfurt or Check-out at ETS GmbH Office
Location
Pick-up/Check-in Time & Location
Drop-off/Check-out Time & Location
Notes
Restrictions
If less than 4 participants are booked, the activity may not operate.
Other requirements
Please call the activity provider the day before to reconfirm your booking. Your voucher has the necessary contact information listed.
Required items to bring & attire
Additional notes
If the Rhine cruise is not available during Winter season, it will be replaced with a tour around an ancient castle.
The cable car is not included in the price.
For a small group tour up to 8 persons, an English-speaking driver/guide will hold the tour. For larger groups over 9 persons, a bus will be provided and there will be a bus driver and a tour guide.
Lunch is included in the tour price but additional drinks and dessert are excluded and payable on site.
Multilingual audio guide is available on the day of the tour for 5 EUR payable on site.
The activity schedule is subject to change or cancellation due to weather or traffic conditions.
You must have a printed copy of your VELTRA voucher to present upon check-in. You will not be able to participate in this activity if you only have a digital copy on your mobile device.
good except River Cruise was too short
Great tour guide in Michael. The actual river cruise was a disappointment - too short and could not hear the commentary. Perhaps going up stream would have been better.
Very enjoyable day
2018/07/02
Couples
Sam C.
This was a wonderful tour; well worth the money. You get a little bit of everything:
- Bus tour to Rüdesheim am Rhein with comedic host (Michael); it's about an hour
- Ski lift ride over the vineyards (in good weather... which it was)
- Lunch at a tavern down by the river (just the right size you will pay for your drinks)
- Ride on the river where you get to see the beautiful scenery with quite a few castles; about 1 hour 20 minutes (would have liked this to be a little longer)
- Bus ride back to tavern for a little wine tasting of a red, white, reisling and eis wine (this is a little sampling, not like when you go to a vineyard)
- 30 minutes to shop or visit Rüdesheim (would have like this to be a little longer)

Overall, a good experience and be sure to bring camera.

more
Rhine day tour
2017/09/11
Couples
Lutz Sonnenberg
The Rhine tour.. eliminate the wine tasting sham. That is a total waste of time. Better to have more shopping time in Rudesheim.
Read all reviews (18)
Payment / Cancellation Policy
Payment Methods
Credit card payment
Cancellation Policy
Any cancellations made after 11:15 local time, 1 business days prior to the activity will be subject to a charge of 100% of the total amount.
Top-Rated Activities for Frankfurt
Editor's Picks for Frankfurt
Rhine Valley Cruise and Tour from Frankfurt with Lunch and Wine Tasting
Go on an unforgettable day tour from Frankfurt to the Rhine River Valley, a known UNESCO World Heritage site. Enjoy sights of the river, quaint villages, medieval castles and vineyards.