Classic Tea Ceremony with Full Cha-Kaiseki Cuisine and Matcha Green Tea in Tokyo
Reviews
The Most Authentic Tea Ceremony Experience
Ian
Posted on:
2016/08/05
| Ian
Wonderful ceremony.
V.P
Posted on:
2016/06/15
| V.P
Read more
Overview
Tokyo
2.5 hour(s) incl. transportation
Available Sun, Mon, Tue, Wed, Thu, Sat
English
Pick-up available
Dinner
What to expect
Step into an exclusive oasis, generally closed to the public, just minutes away from the heart of Tokyo. Enjoy the elegant ceremony from a penthouse, with the Tama River far below.
Overview
Available Sun, Mon, Tue, Wed, Thu, Sat
Inclusions: Dinner / English-speaking assistant / Lesson fee / Sake / Photos during your class / Wagashi sweets to take home
Meet at Futako-Tamagawa Station
Meet with your interpreter at Futako-Tamagawa Station. They will escort you to the exclusive venue, just a short walk away.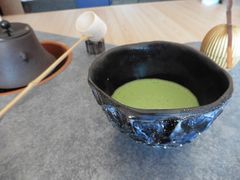 Enjoy a peaceful moment with your tea master. Featuring matcha green tea from Uji, Kyoto and classic tea tools, observe the master's techniques before making the tea yourself.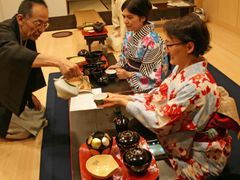 Taste the seasonal flavor of Japanese cuisine through a traditional five course meal before your tea ceremony. Following the formal "one soup, three side-dishes style", discover the art and history of Japanese dishes alongside delightful sake.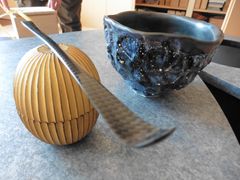 If you would like to continue the tradition of tea at home, matcha green tea powder and utensils for the tea ceremony are available for purchase on site.
Check-out and Tour Ends at Futako-Tamagawa Station
Location
Pick-up/Check-in Time & Location
Drop-off/Check-out Time & Location
Notes
Restrictions
This class is meant for participants 18 years old and above. Participants under 18 must be accompanied by a parent or guardian.
Alcohol will be served only for those over the age of 20. For those who cannot or do not drink alcohol, Japanese tea or mineral water is also available.
Due to the availability of the classes, there is no guarantee your first choice will be available.
Please enter three different starting times you would like for a higher chance of confirmation.
Additional notes
Photos taken by the staff will be sent to you by e-mail.
A vegetarian menu is available upon request when booking.
If you have any allergies or religious restrictions, the chef will try their best to accommodate to your needs. Please understand that we can not guarantee all requests are able to be accommodated.
Please let us know your needs when booking.
Please note that this is not a private tour and may be attending with other participants.
Required items to bring & attire
You will be asked to remove your shoes before entering the classroom. Please wear socks or stockings.
Booking requirements (# of participants, vehicles, hours, etc.)
You can book a minimum of 2 and maximum of 10.
The Most Authentic Tea Ceremony Experience
2016/08/05
Solo Travelers
Ian
Most tea ceremony experiences are in the form of a performance. You don't experience the feeling of host and guest that is the original purpose of "the way of tea"---a framework for communication and meditation. Of cours...e, as a guest without knowledge of the tea ceremony you can only be a spectator not a true guest and participant.

Mat-Cha-Doh does an excellent job of teaching you to be more than a spectator of the ceremony. With an interpreter and instruction you are a participant in what is more than a ceremony---a meeting of host and guest within the framework taught by the Urasenke School of Tea. And surrounded by an authentic tea house with wood from the great temples of Nara, and centuries old tea ware, this is truly a once in a lifetime experience!!
more
Wonderful ceremony.
Absolutely loved it. Thank you!
Authentic Cha-kaiseki and Tea Ceremony
2016/06/15
Solo Travelers
Maria Suzuki
I had participated in a tea ceremony before, but this time it was a
whole different level.
To be able to experience it in its context of cha-seki made me understand a lot more and everything was provided in an authenti...c yet relaxed atmosphere.
Thank you so much!
more
Read all reviews (4)
Activity Provider
Mat-Cha-Doh
Payment / Cancellation Policy
Payment Methods
Credit card payment
Cancellation Policy
Any cancellations made after 17:00 local time, 7 business days prior to the activity will be subject to a charge of 100% of the total amount.
Top-Rated Activities for Tokyo
Classic Tea Ceremony with Full Cha-Kaiseki Cuisine and Matcha Green Tea in Tokyo
Step into an exclusive oasis, generally closed to the public, just minutes away from the heart of Tokyo. Enjoy the elegant ceremony from a penthouse, with the Tama River far below.